Widely regarded as the premier piano trio of its generation, the Claremont Trio is sought after for its thrillingly virtuosic and richly communicative performances. First winners of the Kalichstein-Laredo-Robinson International Trio Award and the only piano trio ever to win the Young Concert Artists International Auditions, the Claremonts are consistently lauded for their "aesthetic maturity, interpretive depth, and exuberance" (Palm Beach Daily News).
Equally passionate about the standard repertoire and the music of our time, the Claremonts celebrated the release of two CDs in 2009 spanning music from Beethoven to Mason Bates. "American Trios" on Tria Records is the first disc to present both of Leon Kirchner's piano trios and was recorded in honor his 90th birthday year. The disc also features Paul Schoenfield's "Café Music," Ellen Zwilich's "Trio," and Mason Bates' "String Band" (written for the Claremont Trio in 2002). The group's other recent release, on Ongaku Records, is a collaborative project with clarinetist Jonathan Cohler, including works by Beethoven, Brahms, and Dohnanyi. The recording garnered a glowing review in Fanfare magazine and received a Critic's CHOICE award from BBC magazine, which cited the "splendidly enjoyable" disc's "real intensity through eloquent phrasing and responsive teamwork."
The Claremonts return to Boston's prestigious Isabella Stewart Gardner Museum for a series of three performances during the 2009-10 season. The season also includes engagements at the University of Wisconsin, Houghton College, and Elmira College and the Chamber Music Societies of Dallas, Bethlehem (PA), and Logan (UT), along with the Concert Associations of Merrick (NY) and South Windsor (CT). The Trio makes its debut at West Palm Beach's Society of the Four Arts and performs as ensemble-in-residence at California's Laguna Beach Live. They continue to maintain a strong New York presence, adding Queens College's LeFrak Concert Hall to a list of New York venues that includes Carnegie Hall, Merkin Hall, and Miller Theatre as well as the downtown venues of New York Public Theatre's Joe's Pub and Le Poisson Rouge.
Return engagements at Carnegie Hall and Washington D.C.'s Kennedy Center were part of the Trio's 10th anniversary season in 2008-09. An extensive countrywide tour in that season also encompassed major venues in Boston, Seattle, Phoenix, Anchorage, Syracuse, Columbus, and Puerto Rico as well as the universities of Duke, Kansas State and SUNY Purchase. In addition to presenting the world premiere performance of Nico Muhly's Common Ground, at the Kennedy Center, they also performed Mason Bates' new work, "Red River" (2007) for piano trio, clarinet, and electronics and were featured in special concerts celebrating Leon Kirchner's 90th and Elliott Carter's 100th birthdays.
Believing that education on all levels is essential to the future of classical music, the Claremont Trio is extensively involved in teaching the next generation of musicians and music lovers. Sought after for their effectiveness in the classroom as well as on the concert stage, the Trio regularly conducts educational outreach activities and master classes, most recently at the Peabody Conservatory's Preparatory Division, where they conducted a mini-residency, and at the University of Washington, where they led a series of master classes. Other recent master classes have been at Eastman School of Music, Duke University, Boston Conservatory, Purchase College at SUNY, Middlebury College, the University of Wisconsin at Oshkosh, Longy School of Music, Kansas State University, and Gettysburg College's Sunderman Conservatory.
Deeply committed to expanding the trio repertoire, the Trio works actively with composers on new works including a piece by Howard Frazin they will premier this year. They have also commissioned works from Nico Muhly, Daniel Kellogg, Mason Bates, and Hillary Zipper, and have an ongoing collaboration with innovative composer and violinist Daniel Bernard Roumain.
In recent seasons, the Trio has performed at Avery Fisher Hall and Alice Tully Hall in New York's Lincoln Center; the UCLA Center for the Performing Arts; Stanford Lively Arts; the La Jolla Music Society; the Performing Arts Center at SUNY Purchase; the Kravis Center for the Performing Arts; and Wolf Trap. They have been featured guests of the chamber music societies of Detroit, Cincinnati, Kansas City, Louisville, and San Antonio. Summer festival appearances have included the Saratoga, Mostly Mozart, Caramoor, Ravinia, Bard, Rockport, Norfolk, and Cape Cod Chamber Music festivals. The Trio also has performed at the American Academy in Rome, and in 2002 they traveled to Bosnia, Serbia, and Slovenia as part of a cultural exchange co-sponsored by the U.S. State Department and Carnegie Hall.
The Claremont Trio frequently performs the Beethoven Triple Concerto with orchestras. It adds the Canton Symphony Orchestra in 2009-10 to an impressive list with which it has performed the work, including the Utah Symphony, Virginia Symphony, and Pacific Symphony. They have collaborated with Peter Martins, director of the New York City Ballet, on a ballet based on Paul Schoenfield's "Cafe Music". They have also been privileged to perform with many distinguished guest artists including Toby Appel, Joseph Kalichstein, Martha Katz, Jaime Laredo, Ida Kavafian, Nokuthula Ngwenyama, Sharon Robinson, and Richard Young.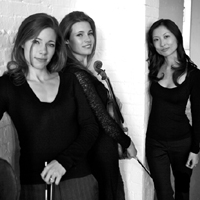 The Claremont Trio's debut CD of Mendelssohn trios was released on the Arabesque label in 2004 to overwhelming critical acclaim. Gramophone magazine praised the disc for giving "large-scale performances with a sweeping, romantic sense of space and strong dramatic contrasts," while Strings celebrated the Trio's ability to "find a cool equilibrium between industry and frivolity where an elegant, totally Mendelssohnian sexiness resides." The group's second disc of Shostakovich and Arensky trios was released on Tria Records in 2006 in honor of the 100th anniversary of Shostakovich's birth.
The Claremont Trio has been featured on Japanese and American television and is heard on radio stations throughout the U.S. and abroad, including Australia's ABC, New York's WQXR, Boston's WGBH, Chicago's WFMT, Salt Lake City's KBYU, and Columbia University's WKCR. Since 2006, they have kept a blog on their website which describes their adventures on the road. Through this online tour diary the members of the trio reach out to friends and music lovers of all ages around the world, offering a window into their lives as traveling musicians.
Twin sisters Emily Bruskin (violin) and Julia Bruskin (cello) formed the Trio with Donna Kwong (piano) in 1999 at The Juilliard School. The Claremonts are based in New York City near their namesake: Claremont Avenue.