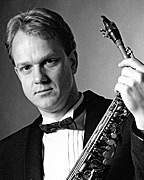 Arno Bornkamp
Arno Bornkamp(Amsterdam,1959) is the prototype of the modern virtuoso, feeling equally at home in the traditional as well as in contemporary repertoire. Since his solo debut in 1982 in Rome, where he performed the famous Concertino da Camara by Jacques Ibert, Bornkamp received many invitations as soloist in compositions by Glazunow, Ibert, Milhaud, Martin, Villa-Lobos, Schmitt and Debussy. He has also appeared as soloist in contemporary compositions by Donatoni, Francesconi, Berio, Birthwistle, Andriessen, Van Keulen, Padding en Van Onna.
After completing his study with Ed Boogaard at the Conservatory of Amsterdam (1986), where he gradueted with the highest honours, Bornkamp went on to study with the renowned Daniel Deffayet in Paris. Noteworthy among the many awards to have come his way are the "Silver Laurel of the Concertgebouw" and the "Music Prize of the Netherlands". This last honour enabled Bornkamp to make a thorough study of the contemporary saxophone repertoire: he went to Bordeaux to study with Jean-Marie Londeix and to Osaka to work with Ryo Noda. He also visited composers such as Luciano Berio and Karlheinz Stockhausen.
Bornkamp also has great affinity with chamber music: he gives many recitals with pianist Ivo Janssen and is a member of the Aurelia Saxophone Quartet.
Bornkamp's activities (concerts, festivals, lectures, masterclasses) have brought him all around Europe, as well as to the USA, Japan and other far eastern countries. The apex of his career so far, together with Ivo Janssen however,took place nearer to his home: in the summer of 1996 he performed at the " TV Prinsengracht Concert" in Amsterdam, in front of a public of over 15.000 people. An exclusive contract with CD-company Vanguard Classics has enabled him to make five very well received CD's. Arno Bornkamp is leading an international saxophone class at the Conservatory of Amsterdam where he has become saxophone teacher in 1995.
Arno Bornkamp's most recent project leads us to the time of Adolphe Sax. On period instruments (saxophones made by Adolphe Sax and an ' Erard" piano) he and Ivo Janssen perform early, 19th century saxophone repertoire: "Adolphe Sax Revisited".